Who is Yogi Bear?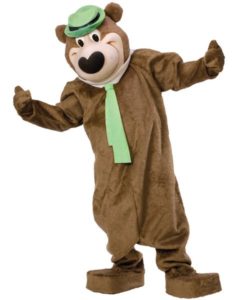 Yogi Bear made his debut back in 1958 as a supporting character on The Huckleberry Hound Show and eventually became more popular than his friend Huckleberry Hound. Created by William Hanna and Joseph Barbera for Hanna-Barbera Productions and was their first breakout character.
After 3 seasons on The Huckleberry Hound Show, in 1961 Yogi Bear got his own show, The Yogi Bear Show, and was sponsored by Kellogg's and became an instant and huge hit.
Yogi Bear was an Inhabitant of Jellystone Park and always traveled with his great little bear friend Boo Boo, always trying to steal picnic-baskets, much to the displeasure of his friendly nemesis Ranger Smith. At times, Yogis girlfriend, Cindy Bear, would make an appearance and usually disapproved of Yogis antics.
Yogi was voiced by Daws Butler and later on Greg Burson. Other voices were provided by Don Messick, Doug Young, Janet Waldo, and ventriloquist Jimmy Weldon, provided the voice for Yakky Doodle. During the Yogi Bear Show, "Snaggelpuss" the happy-go-lucky Shakespearean mountain lion and "Yakky Doodle" a little duck and his bulldog buddy, Chopper, provided two segments on the show.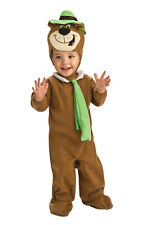 2010 saw Yogi Bear and boo Boo make a triumphant return in a new movie entitled "Yogi Bear." The great Dan Aykryod was the voice of Yogi, Justin Timberlake the voice his great companion Boo Boo, the lovely and talented Christine Taylor played Yogi's Girlfriend, Cindy Bear, and Tom Cavanagh from Scrubs played Ranger Smith, the movie was not a huge box-office success but it did introduce a new generation of fans to Yogi Bear prompting a surge in fancy dress costumes.
So, come Halloween, or any fancy dress party you may have, dress up as Yogi Bear and check out these the amazing costumes that are available from our site, below are links to the costumes available to buy but be quick as they tend to sell out quickly.
Yogi Bear Child Costume
Yogi Bear Adult Costume
Save
Save