The Queen Of Hearts and Fancy Dress Costumes To Die For

Wow! wow! wow!
I speak severely to my boy,
I beat him when he sneezes;
For he can thoroughly enjoy
The pepper when he pleases!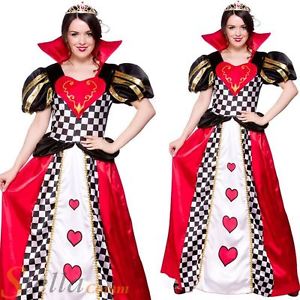 Lewis Caroll wrote Alice's Adventures in Wonderland in 1865, over a hundred and fifty years ago and still to this day the story is as popular as ever amongst children and adults. The book is still in print and countless movies have been created about the story.
On our site, the Alice in Wonderland costume section still attracts costumers with tons of visitors yearly and our most popular character costume after Alice is The Queen of Hearts for adults and children, but who is this Queen?
Got to love The Queen Of Hearts. She is the most foul-mouthed Monarch that loves to dish out death sentences for the littlest of offenses. Her most famous well known line is "off with their heads" which she likes to say repeatedly. Though sometimes she gets confused with the Red Queen from "Through The looking Glass" They are completely different characters.
The Queen loves to play croquet which leads again to a weird and wonderful scene where the balls are hedgehogs and the mallet flamingos, where the Queen keeps getting victims dragged away which eventually just leaves Alice, the Queen and the King.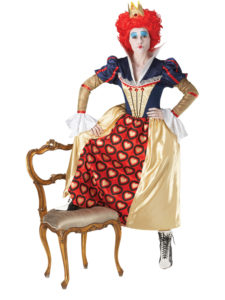 The Queen Of Hearts is based on Queen Victoria, and is portrayed as a large, fat woman. She wears a regal gown with two skirts with white lining on the first skirt and the rest of the gown is black and red. She wears a small gold crown and her hair is black and tied in a bun with a red ribbon.
In Tim Burton's 2010 Alice in Wonderland movie, The Queen is brilliantly played by Helena Bonham Carter and this character portrayal led to a massive purge in Queen costume sales.
Luckily enough, looking like the Queen of Hearts has been made simple with these excellent costumes for Adults and Children we have found and brought to our site below. Be prepared with a unique look and choose a costume that will make you stand out from the crowd.
Take your time, there is a lot to choose from for Halloween or any fancy dress party. Enjoy and Happy Dressing!
Save
Save