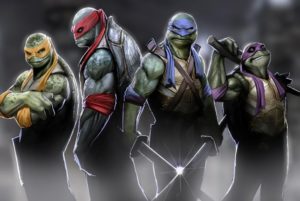 So, once again a new Turtles movie is due to be released in 2014 starring Megan Fox and Alan Ritchson (the 5th movie). This is exciting for Turtle fans like myself. Everyone loves the Teenage Mutant Ninja Turtles. And just for the people who may not know about them, I'll give a little history.
It all started in 1984 as an American comic by Mirage studios when a sketch was made by Kevin Eastman and together with his friend Peter Laird they went on to create a legendary comic series about 4 Turtles trained in Ninjitsu by their Rat mentor and sensei Splinter. Living in the sewers of Newyork city they would battle criminals and aliens but especially the baddie Shredder.
The comic was a huge success and in 1987 the Teenage Mutant Ninja Turtle TV series was born and along with the comics, action figure merchandise and other products, became pop culture legends. Because of this too for all crazy turtle fans, you can get amazing Halloween costumes for kids, ladies and men, check them out here on our site, they are excellent looking.
Who Were The Famous Four?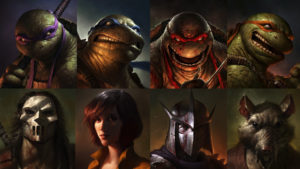 Raphael – He wears the red mask, is the bad boy of the group and his weapons of choice is a pair of Sai. He is Fierce, sarcastic and often delivers deadpan humor. On our site you will find this costume available for young children, aswell as older children and amazing costumes for ladies.
Michelangelo – He's the sort of hippish easy going free spirited one, wears an orange mask and his weapon are nunchaku. Being the youngest, he is the most adventurous and always provides great comic relief.
Donatello – The brains of the bunch. A scientist, inventor and engineer he wears a purple mask and his weapon is the Bo staff. He is the least violent of the lot and prefers to use his brain.
Leonardo – He is the most courageous and the leader, wears the blue mask and his weapons are a pair of katana. He is the oldest and the most skilled fighter of the bunch. On our site you will find this costume available for young children, aswell as older children and amazing costumes for ladies.
Other Important Characters!
Splinter – Their adoptive father and sensei, he is a Japanese mutant rat who knows the way of Ninjitsu.
April O'Neill – She is a great friend to the turtles. She is a former Lab assistant and in the later series, a new reporter.
Casey Jones – The love interest of April, a vigilante and close Allie of the turtles. He fights crime with sports goods while wearing a hockey mask to protect his identity.
Shredder – Also known as Oroku Saki, he is a villainous Ninjitsu master and the leader of the Foot clan. He is the archenemy of Splinter and the Turtles.
As well as tons of great comics, there was the TV cartoon series from 1987-1996 which was a global success. From 1997-1998 there was the live action series "Ninja Turtles: The Next Mutation" but it was canceled after only one season.
A second Animated series 2003-2009 was a more edgier darker series to previous and in 2011 a new CGI version of this franchise came out through Nickelodeon . We here at Halloween All Year Round are very excited about this movie and myself probably the most excited since I'm a huge fan. There isn't a video available yet but as soon as one comes I'll be posting so stay tuned. Below is a video of the cast for the new movie. Leave a comment on your thoughts below.
Save
Save