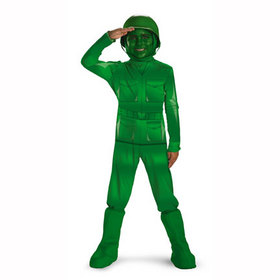 Looking for something outrageous to wear this Halloween or for any fancy dress party then look no further than these amazing costumes straight from the brilliant Toy Story Movie. The Green Army Men, or Sarge and his Bucket 'o Soldiers are a popular character from the movies and some of the most popular Halloween costumes to be purchased last year and now this year.
Gun-Ho commander Sarge is a great friend of Woody in the movie and was voiced by R Lee Ermley. He is brave, courageous, disciplined and shows a strong show of comradeship. With all these qualities it is no wonder he is a great choice of costume for an adult or child and what an amazing costume that is available.
Just look how brilliant these costumes are. The Toy Story Movies have giving us many cool characters for costumes but these definitely are my favorite. This costume is available for Adults, both men and women and with some green face paint it will be easy to stop people in there tracks at Halloween.
The Same costume is available for children. An all green jumpsuit, green boot covers, green helmet and as said, some green face paint will make this one of the most fun costumes you will ever wear.
This Halloween, have the most fun you or your child can have by dressing us as Sarge. It is a crazy costume, striking in look and a pure head turner and sure to be once again a big seller this year.
Save