With Halloween right around the corner, now is a great time to get head start on buying your costume. BuyCostumes just released their top 10 costume themes of 2015 and so we went ahead and researched as we do every year and bring you our findings of 11 excellent costume theme selections. Yes, Game of Thrones and X-Men etc are still popular but as we discovered, there are some unusual findings and searches happening around the internet and people are going costume-buying crazy all ready. Prepare for the best Halloween costumes ideas 2015.
Top 11 Costume Themes for 2015
Star Wars Costumes

Here at our site we are predicting (as usual) what is going to be the biggest selling costumes of the year, and before the movie is even released we are going with Star Wars costumes. All ready popular every year, these are selling like hot cakes due to the new movie, and you can bet that in 2016 these will be massive. Check them out, some amazing costumes for adults and children. Star Wars costumes
Disney Descendants Costumes
Yep, this movie has been a massive hit among teens and children and as we write this, using our research, the searching online for these types of costumes is huge so expect to see them every where among the young this Halloween or actually anytime of the year. You can see what costumes are available here Disney Descendants Costumes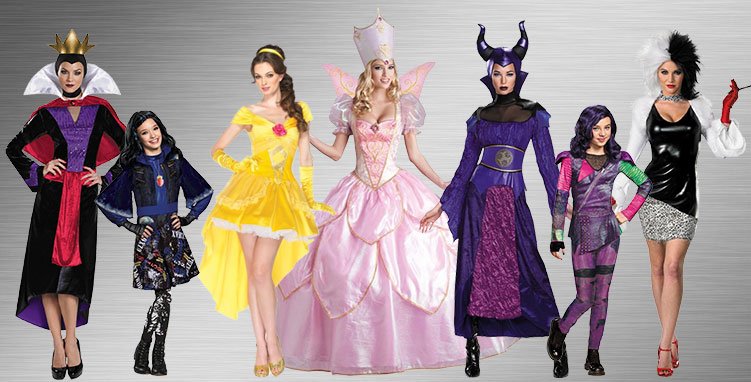 Superhero Costumes
Ok, Star Wars has some stiff competition with Superhero Costumes, actually, possibly on par. There are so many Superhero movies and TV shows out recently, due to be released and coming out in the next couple of years, so so many. Think Batman versus Super man, the Avengers, Wonder-woman, The Flash, Arrow, Captain America, Teenage Mutant Turtles, Wolverine, Spider-man and the list goes on and on and with this of course, luckily for us and you, plenty of amazing costumes for adults and kids, check them out here Superhero Costumes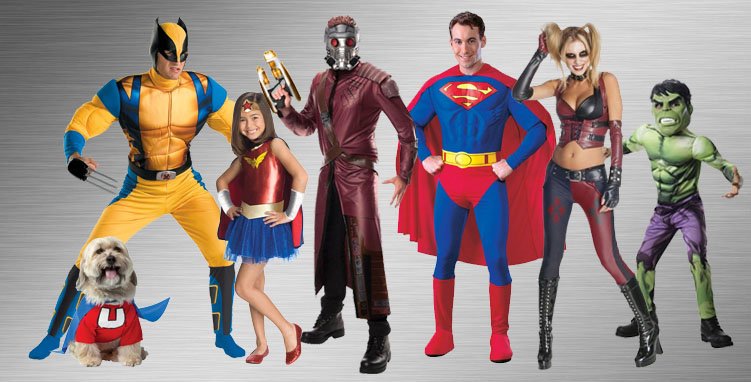 The Nightmare Collection – Exclusive for BuyCostumes
Okay, we are going to get a little personal now and talk and show our favourite collection of absolutely crazy masks that were designed specifically for Buycostumes.com by the brilliant Mario Chiodo. Wait and you see this collection, it will blow you away even if you are not looking to buy, just appreciate these hand-crafted amazing masks. Definitely my favourite masks I have ever come across, so unique, check them out here The Nightmare Collection – Exclusive for BuyCostumes
Avengers Costumes
There is no escaping The Avengers in recent years and now with new The Avengers: Age of Ultron released soon on Netflix, the demand for the costumes is going to soar. So much choice especially for children and adults with Iron Man, The Hulk, Black Widow, Captain America (as we reviewed here) and Thor, you can easily see with each individual the potential for a great costume. The Avengers has been a massive hit and we predict here for the costumes, like some above to sell out this year. Check them out, some beauties here as you are spoiled for choice Avengers Costumes and Accessories
Minions Costumes
Yep, silly as they are, similar as they are, annoying to some, but we here cannot let it pass that the search for these costumes is huge, especially online, why? We do not know but people are buying for adults and children. No in fairness, Despicable Me was an excellent movie and The Minions was a massive hit, and children absolutely love them so you can see why the costumes will be popular. Some are quite funny, check them out here Minions Costumes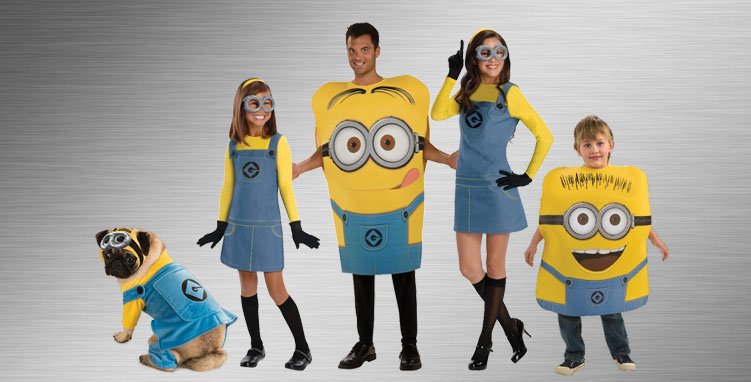 Inside Out Costumes
Disney does it again and yes, I am a huge fan of this movie, loved it and I can see why the costumes will be popular this year. Most Disney movies produce perfect characters for costumes and this movie has done quite that. Not a huge variety of costumes to view but worth a look either way. Inside Out Costumes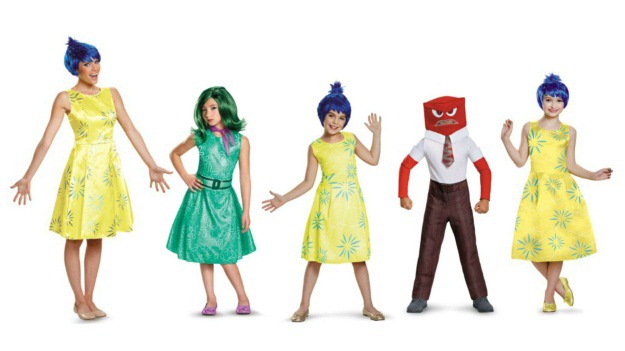 Jurassic World Costumes
At first, when we viewed the amount of searching happening online for Jurassic World costumes we were surprised and dumbfounded thinking surely there can not be too may costumes available for this, and lo and behold were we wrong. There are plenty. Jurassic World was again another hit of a movie and this has provided us with some surprising damn good costumes, check them out too Jurassic World Costumes
Disney Cinderella Costumes
Another Disney hit with little children, the Cinderella movie this year, tough as an adult it was just okay, children have once again being introduced to this wonderful story and of course the interest in the costumes and dresses is huge. And luckily there is a fantastic choice, lots of different costumes for babies, kids, teens and adults to choose from and some are just stunning. Check them out here Disney Cinderella Costumes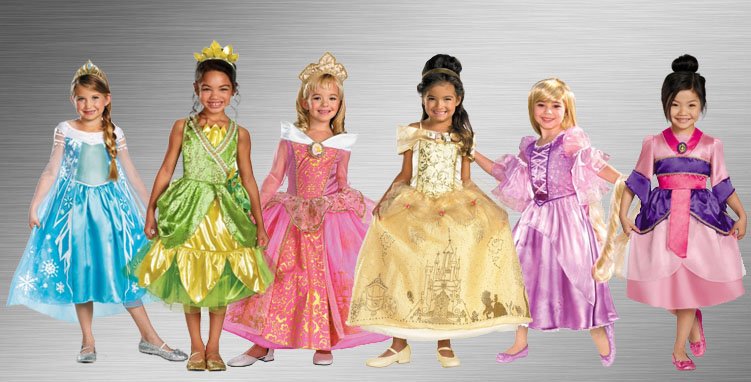 Disney Frozen Costumes
Okay, Disney has a lot going on but you can not beat them for introducing characters for costumes. We spoke about Frozen already in this post and that was how the costumes were selling in 2014, and as we predicted, way into 2015 they are still flying out the door. Kids love them, what can we do but enjoy them. Check them out here Disney Frozen Costumes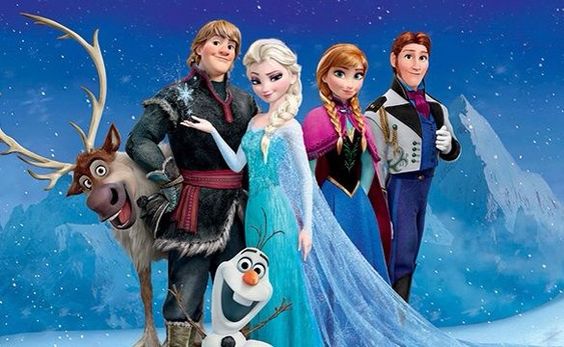 Zombie Costumes
Well finally we reach our 11th in our selection of popular themes for 2015 and we want to return to personal favourites and something more on a Halloween gory theme, Zombies. With movies, TV programmes and video games full of Zombies, you will be happy to know, that there are a lot of wow factor excellent Zombie costumes for babies, dogs, kids teens and us adults and you have to check them out, perfect for the coming Halloween. Check the costumes out here Zombies Costumes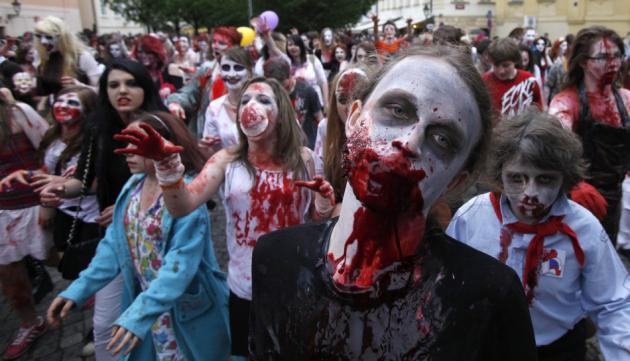 Enjoy Halloween
That's the 11 best themes and most popular searched costumes of 2015. What ever you do this Halloween just enjoy. Leave a comment below if you have any suggestions for themes that you find popular of any costumes at all.
Save
Save
Save
Save