Out of all the Toy Story Halloween character costumes available this year, there is one that completely, and outrageously stands out from the rest, and that is "Sarge and his Bucket O' Soldiers." Though the Green army men plastic toy soldiers have been around for decades, it is only really lately since the excellent Toy Story movies have costumes from these popular child's toys come to light, and wow how they have come.
Sarge is a gun-ho commander of a plastic army from " Bucket O' Soldiers, and his character is voiced by R Lee Ermey (Full Metal Jacket) and is based on the character played by Ermey in that movie. The Green Army Men are highly disciplined, very brave and love to go on missions. Their "leave no men behind" catchphrase speaks for itself.
With all these qualities in their presence, it is no wonder these Halloween costumes appeal to all children and adults alike. Sarge is a great and well loved part of the Toy Story movie, a close and trusted friend to Woody, honest and professional. A perfect role model.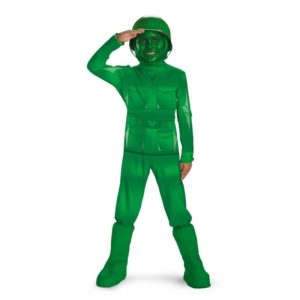 This costume features a green printed overall jumpsuit with faux top, green pants and belt and pocket detailing, a matching hood, green helmet and green boot covers. Add a little green make up to the face and you can instantly see why this would be a striking interesting Halloween costume that can transform any child in to an energetic fighting general, just like Sarge.
These Green Army Men costumes are fantastic looking and are made for toddlers, school children, teens and adults, and come in all sizes from petite to medium to plus size. It would also make a perfect Parent and child pairing, a fantastic idea if you are looking to include your child in some interacting Halloween fun.
Also, this Toy Story character costume is not just for boys and men and can be perfect for any little girl, even adult women, looking for a crazy unique look.
The plastic toy soldiers have been part of most children's upbringing and played with around the world, and with Sarge and his Bucket O' Soldiers coming out of the very popular Toy Story movie and bringing with them stunning Halloween unique costumes. Our Site recommends this costume and standing out from the crowd this year will be a unique fun experience.
Save
Save