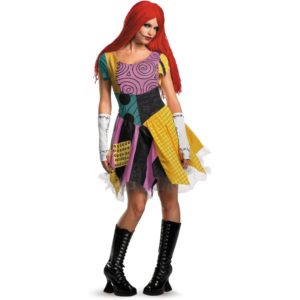 How gorgeous are these Sally Costumes
, pure beautiful Halloween creativity and some of the most unique costumes you will find on the Internet. Again, as you can see from this site I have nothing but praise for Tim Burton, and in 1993 he created one of my favorite animated movies ever, The Nightmare Before Christmas.
Coming straight out of Halloween town, Sally was the love interest of the great Jack Skellington, two lovable and amazing characters straight from the genius mind of Burton. There are many different styles of Sally costumes as you can see here but the new Sally Super Delux costume on the top left here seem to be the most popular and praised in the reviews that I have researched.

View this Sally Costume details and purchases available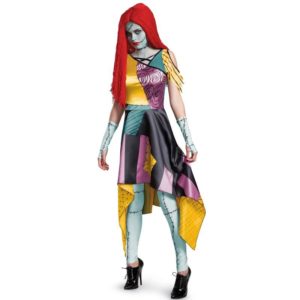 For Halloween, if you are looking for a stand out very unique costume you cannot go wrong with these sally costumes. This super deluxe costume includes a quality-made patchwork dress in true Sally style, a long red yarn wig, and elbow-length gray glovelettes with black stitching details. You'll be ready for some Halloween fun with this costume! Available in Adult Sizes: Small, Medium, and Large.
View and buy this Sally costume now
Save
Save