Toy Story and an Amazing Legacy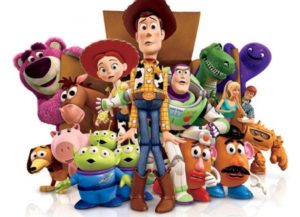 Its hard to believe that the first Toy Story movie was released in 1995, yes, I know, crazy, and it was the first movie made by Disney/Pixar, and also the first entire movie to be made in CGI.
With the great voices of Tom Hanks and Tim Allen, and directed and co written by John Lasseter, it was sure to be a box office hit and grossed 191 million in it's initial release and 361 million worldwide, receiving very positive reviews.
Toy Story was to begin a legacy and change the face of movies, having a huge impact on the industry with other companies interested in this new technology.
It also left its mark with clever catchphrases with the most popular been "To Infinity And Beyond" by Buzz Lightyear.
Inspiring new toys, video games, t-shits and other merchandise, great costumes, spin-offs, DVD's even theme park attractions, Toy Story grew in to a multi-million industry.
In 1999, Toy Story 2 was released again to huge acclaim and we would have to wait a whopping 11 years for the highly entertaining Toy Story 3, released in digital 3D, again another huge hit and the final movie in this wonderful franchise.
Costumes
As the year is now 2013, it is great to see (especially here on our site) that the search for Toy Story costumes for both children and adults is still massive, and these costumes still sell like hot cakes yearly.
We continue to promote the costumes available on our site, not just because of demand, but simply because we love these costumes, especially the costumes available for kids.
There are costumes for Woody, Jesse, Buzz, Rex, Hamm, Sarge and Alien, all well worth checking out and great to see our Halloween costume websites still creating these wonderful costumes. Click through and enjoy.
Save
Save