The Lone Ranger And Tonto
"A fiery horse with the speed of light, a cloud of dust and a hearty "Hi-yo Silver, Away!"
Just who was the masked man and how did this great TV programme come about?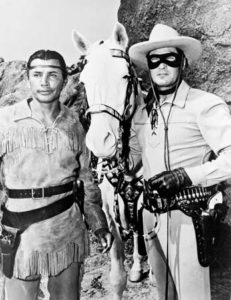 So the New Lone Ranger Movie has just hit our screens and has received mixed reviews but as a huge Lone Ranger fan, I still can not wait to see it. This move may introduce a hero to a new brace of fans, but has been around for decades. So who was the Lone Ranger and what is the history of this Super Hero.
The origin of Lone Ranger's story begins with a group of Texas Rangers chasing down a gang of outlaws led by Butch Cavendish. The gang ambushes the Rangers, believing to have killed them all. One survivor is found, however, by an American Indian named Tonto, who nurses him back to health.
When they were young, Reid, who is The Lone Ranger, had rescued Tonto after renegade Indians had murdered his mother and sister and left him for dead. Reid gave him a horse, and Tonto insisted that Reid accept a silver ring. It is by this ring that Tonto recognizes Reid.
The Ranger, donning a mask and riding a white stallion named Silver, teams up with Tonto to bring the unscrupulous gang and others of that ilk to justice, and so began this exciting relationship.
TV and Radio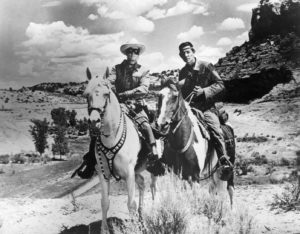 In January 1933, the first radio broadcast went out in Detroit on WYXZ and was voiced firstly by George Stenius and went on to have 2956 episodes, wow! I can only imagine what it was like to be a boy, gathered around the radio, listening to our favorite hero.
In 1938, "The Lone Ranger" movie made its debut and starred Lee Powell and Chief Thundercloud, then the following year, " The Lone Ranger Rides Again" was made and starred Robert Livingston and again Chief Thundercloud, both were Successful movies though the first movie did better at the box office.
From 1948-57 The Lone Ranger aired for 5 seasons on ABC US television network and starred the great Clayton Moore as The Lone Ranger and Jay Silverheels as Tonto, making a total of 221 episodes. While during the third season, John Hart replaced Clayton Moore, but Moore would return for the last 2 seasons. Most of the Scenes were shot at Iverson Movie Ranch in Chatsworth California and it was only the last season that was shot in color.
On June 6th 1957 the show sadly ended. CBS tried to revive the show in 1961 but it did not pass the pilot stage. The Lone Ranger next appeared in a cartoon in 1966-69 starring Michael rye and Shepard Menken and in 1980 again as a cartoon in The Tarzan/Lone Ranger Adventure Hour. In 1981 a movie "The Legend Of The Lone Ranger" made a return to the silver screen and upset some fans because the movie studio obtained a court injunction preventing Clayton Moore from appearing as The Lone Ranger anywhere else. The movie was unfortunately a failure.
The WB network in 2003 aired a 2 hour Lone Ranger TV Movie Special starring Chad Micheal Murray as The Lone Ranger in hope of it becoming a series but failed to take off.
Planned now for 2012 was a Walt Disney Pictures remake of The Lone Ranger which was very exciting news but had many problem taken off. Johnny Depp was said to be playing the part of Tonto, while it was rumored that George Clooney may play The lone Ranger but it was actually Armie Hammer who took on the Ranger role. So far, mixed review, but it is always good to ignore these and make your own opinion.
This movie is sure to reintroduce new fans to this classic TV series and a lot of great Halloween costumes will follow and hopefully we will have them on our site before the holiday. So far we only have an excellent Lone Ranger costume for men, a gorgeous popular Lone Ranger Costume for Ladies and a stunning Tonto Costume for women. Be sure to check them out.
Finding the right Halloween or fancy dress costume and making yourself look like the Lone Ranger couldn't be any easier. Enjoy finding the right costume for you or your child, Happy Dressing!
Save
Save