The Mad Hatter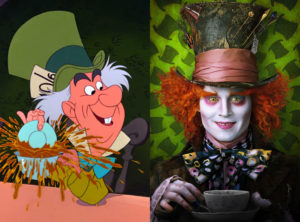 How doth the little crocodile
Improve his shining tail,
And pour the waters of the Nile
On every golden scale!
How cheerfully he seems to grin,
How neatly spread his claws,
And welcome little fishes in
With gently smiling jaws!
Who Is The Mad Hatter?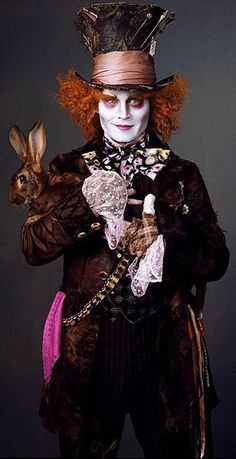 The Mad Hatter, the character from Alice Adventures in Wonderland is one of my favourite and most fascinating fictional creations, but where did the idea for the Mad Hatter stem from? Also, what Halloween and Fancy Dress costumes can we get from this character?
I love this character. The scene in the book at the tea party is bonkers and hilarious. When Alice arrives to the tea party she is subjected to a world of craziness where The Hatter and The Hare are switching places at the table, making short personal remarks, reciting nonsensical poetry, which I love, and asking unanswerable riddles, which eventually drives Alice away.
When at the tea-party, The Mad Hatter tells Alice, when he tried to sing for The Queen Of Hearts at her celebration, she sentenced him to death for "Murdering the time" but he escaped, and in retaliation, time halted in respect to The Hatter and is stuck at 6.00 forever.
The origin of the character is not really known but presumably inspired by an eccentric furniture dealer by the name of Theophilus Carter, who was known as the Mad Hatter for he always stood at the door of his shop, wearing a top-hat, wish there was a picture to be found.
In the movies, the Mad Hatter has been played by a lot of top actors from Martin Short to Peter Cook and more recently in Tim Burton's movie by Johnny Deep.
For a unique and crazy wonderful look this Halloween or for any fancy dress party, you can't go wrong with the Mad Hatter costume. There are plenty of crazy looking costume for men and women as well as children that we have brought here to our site that we insist you check out.
You will definitely stand out from the crowd, so take your time and choose the right costume for you or your child and have a great Halloween, Enjoy and Happy Dressing!
Save
Save