Tim Burton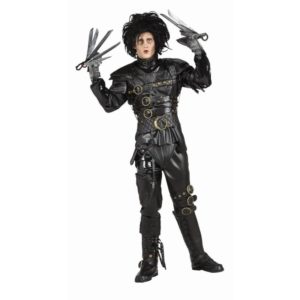 Tim Burton, born in 1958, is an American film director who has brought us some of the best movies over the years, very imaginative and entertaining movies. He is married to Helena Bonham Carter who has also starred in a couple of his movies.
Johnny deep became a close friend and starred in some of his most memorable movie like Edward Scissor hands, Sweeney Todd, A corpse bride, Ed Wood, Sleepy Hollow, Charlie And The Chocolate Factory and Alice in Wonderland.
Burton has also written a Poetry book that I love, "The Melancholy Death Of Oyster Boy" and is well worth checking out. He has directed 14 movies as of 2010 and produced 10 movies as of 2009. You can check out the list of Tim Burton Movies here.
With all his movies over the years, he has giving us the chance to choose and wear some wacky brilliant costumes, and we have most researched here on our site, take a look below.
The costumes chosen here come from some of his best work.
Beetlejuice(1988), starring Michael Keaton was a low budget movie that did very well at the box office. Keaton's character is very memorable and the costumes that were made are amazing looking and instantly recognizable. View the Beetlejuice costumes available.
In 1990 he made the amazing Edward Scissorhands that gave a young Johnny Deep his first movie With Tim, and also starred Winona Ryder who had previously starred in Beetlejuice. Check out the crazy Edward costume on our site and also, yes, this costume is also available for ladies, check out this amazing popular costume.
The Nightmare Before Christmas in 1993 is one of Burton's ideas though he did not direct it and is one of my favorite movies of all time. The Jack Skellington costumes just look amazing and there is a great choice of Sally costumes too to check out.
In 2005 A corpse Bride was made, another amazing animated movie and again starring Johnny Deep and Helena Bonham Carter. It was his first full-length stop-motion type of movie. Emily, is a popular costume at Halloween and there are fantastic costumes available for adults and children
2007 brought us the crazy dark musical Sweeney Todd, The Demon Barber Of Fleet Street, where he received a Golden Globe for best director. Once again Johnny Deep and Helena Bonham Carter were involved, Again, it is another favorite of mine, pure madness and fun. This Sweeney Todd costume is crazy looking and a lot of fun to wear and matching up with Miss Lovett will be perfect for any couple looking for some Halloween fun.
In the movie, Sleepy Hollow 1999, Staring again Depp and the brilliant Christopher Walken as the Headless Horseman, it is no surprise that one of the most popular scary costumes amongst children is this amazing Headless Horseman costume, just crazy and fun loving and easy to see why it is so popular.
As, in 2010, Burton did his own version of the Alice in Wonderland movie and brought to life all the colorful and wonderful characters from that story and because of this there are tons of Alice in Wonderland costume characters to choose from, all well worth checking out.
I'm sure in years to come, Tim Burton will bring us more great movies. I admire his love for movie making and not going overboard with CGI. His Animations are amazing and any child would be blown away by their quirkiness and entertaining values. Over on this page, you can check out all the Tim Burton movie character costumes that are available to buy online, some fantastic looking costumes and some of our favourite on this site.
Because of his movies, we have here these excellent looking costumes, so with such a unique choice, you are sure to stand out amongst the crowds at Halloween or at any fancy dress party. Enjoy and Happy Dressing!
Save
Save