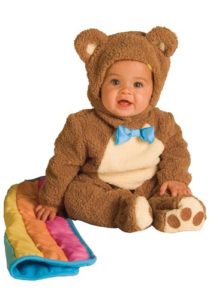 How cute is this Teddy Infant Costume
, seriously very cute. Costumes like this are very popular indeed with parents, a huge demand for very cute costumes and with good reason too as you can see. Whether it is for Halloween, Easter, Christmas, a birthday party and so on, cuddly bear costumes are always in demand.
Teddy Bears have always been around children and will continue to do so. When looking for a Teddy Bear costume we are blessed with many different styles and designs such as this which happens to be one of my favorite.
This costume includes a brown chenille fur and flannel jumpsuit with cream colored belly and feet, a blue bow tie, hood with attached bear ears and a rainbow blanket.
So soft and plush, you'll wish it came in your size. Available in Infant Sizes: 6-12 months, 12-18 Months, 18-24 Months. A real cute and cuddly Halloween costume.

View Teddy Infant Costume purchasing details
Probably my favourite pages to create, my favourite costumes to find and research are the costumes available for babies and infants, there are just so many amazing cute and cuddly costumes they would melt the hardest of hearts.
These sort of costumes are of the highest quality and ready to be shipped right to your door and ready for your child to look like the cutest baby in the world.
Save