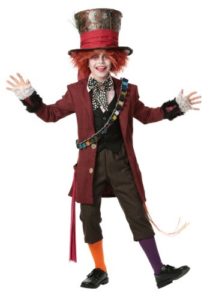 This Mad Hatter Child Costume
for a child is one of the coolest costumes available for children that I have seen, a real Halloween masterpiece of a costume and available to buy online.
The Mad Hatter is a real gem of a character and one of the most popular Alice in Wonderland characters and all children girls and boys will love this costume.
Johnny Depp played this character quite well in Tim Burton's movie in 2010 and this is where this costume comes from.
You can also find this costume available for adults to, but as you can see here the costume for kids is amazing and easy to see why this theme is still the most sought out this year in 2012.
This costume includes a long gentleman's jacket, faux shirt front with attached vest, oversized bow tie and trademark Mad Hatter hat and is available in Child Sizes: Small, Medium, Large and X-Large, a real Halloween clever cool costume.

View Mad Hatter Child Costume purchasing details
All you have to do is take one look at the detail gone in to the making of this costume to appreciate it and fall in love with it. It is a gem of a costume and a popular one amongst young children, boys or girls.
There are many Alice in Wonderland costume characters available on our site but as always The Mad Hatter seems to be the most popular amongst children as well as adults.
Lucky enough we have this classic costume here as well as other children's designs for girls and boys and if you have the time be sure to check out the costumes available for adults as they are quite amazing looking.
Save
Save