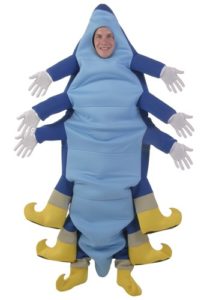 This Adult Caterpillar Costume
is probably one of the most fun costumes I have seen and you could wear for Halloween or any fancy dress party.
The Caterpillar from the amazing Alice in Wonderland story and movies is a popular character indeed and as you can see here, the costume made is of the highest quality and a whole lot of fun to wear.
This amazing costume includes blue caterpillar bodysuit, with four gloved legs and four shoed legs and is available in One-Size, fits Most Adults.
This is deemed to be a very popular costume this Halloween and one you will get years of fun from.

View Adult Caterpillar Costume purchasing details
Just by looking at this totally nuts looking costume I'm sure you are already imagining the fun you could have with it, whether it is for Halloween, an office party, a family get together or som family fun, or for some crazy couple night out, the list is endless with this one and a popular costume been purchased right now, enjoy!
Save
Save