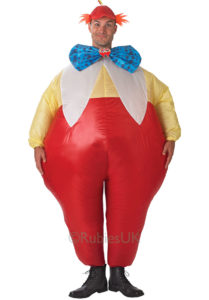 Just looking at these Tweedle Dee and Tweedle Dum Costumes
makes tears come to my eyes with laughter and also appreciation to the companies who can produce such amazing costumes for fancy dress parties and Halloween, crazy and funny looking I must say.
Tweedledee and Tweedledum are two characters from the popular Alice in Wonderland Story.
Just like last year, the search for Alice in Wonderland costumes and all the character is huge, and here you have two quite amazing and unique costume to choose from that also make a great couples costume idea.
These quality costumes include black, yellow, and blue jumpsuit with waist hoop and oversized white collar and red tie, blue beanie hat with white trim and white propeller, and white gloves.
Available in one size, Adult Standard. For Halloween fun, you really can not beat these costumes.

View Tweedle Dee and Tweedle Dum Costume purchasing details
Seriously, how fantastic looking are these costumes. On our site, we like to bring the unusual and fun looking costumes to our visitors and nothing comes more crazier than these two costumes here.
Alice in Wonderland character costumes sell all year round but it is always the usual characters. Here, we have unique creations that are starting to grow in popularity. If you plan to turn heads at your fancy dress party you can not go wrong with these costumes.
Perfect for couples looking for the perfect match, be sure to check sizes and availability.
Save
Save