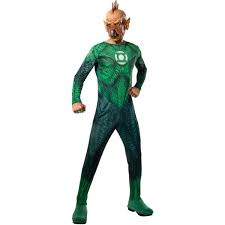 This Tomar Re Adult Costume
is such a cool, unique, even scary Halloween costume and is becoming one of the most popular costumes been purchased online.
Instead of following the pack and buying the Green Lantern Hal Jordan costume you could easily be unique and stand out at any fancy dress party this year.
Tomar Re is a member of the Green Lantern Corps, an elite military police special forces team that have been storming DC Comics for years now and also made a debut in the Green Lantern movie this year 2011.
This Deluxe Tomar Re Adult Costume includes: A sculpted muscle chest jumpsuit featuring green lantern logo, attached boot tops, basic character ring and an amphibian alien mask – based on the look seen in the 2011 feature film, a real Halloween crazy costume.

View Deluxe Tomar Re Adult Costume purchasing details
While most people, when choosing an adult costume will go for the usual Green Lantern costume, here you are giving the opportunity to be unique and different, to stand out at any fancy dress party with this crazy looking monstrosity.
The whole suit, the excellent mask is very different than what you would usually come across at a Halloween party and gives you the chance to have the best fun out of your night with many more to come.
Again these costumes come in all sizes and many designs and are also available for children here and are one of the most popular we have added to this site.
Save
Save