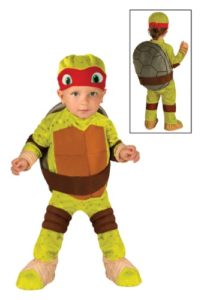 How cute is this Raphael Child Costume
, probably one of the cutest ninja costumes on our site and one of the most popular Halloween costumes been purchased online this year simply because it is new and super cool.
We love ninja costumes as you can see by our site and there are tons of great designs available for children but also us adults.
The Teenage Mutant Ninja Turtles are some of the most famous ninjas in popular culture and myself was a huge fan of the 1980's cartoon and the movies that followed.
In 2014 a new Turtles movie is due to be released and I am sure the surge for cool costumes will be once again huge for the Halloween, especially for young children.
Raphael is one of the most popular Turtles and is loved by children.
This costume includes a cool jumpsuit with realistic muscle torso and arms, turtle shell and half mask headpiece. Available in Toddler/Child Sizes: 2T, 3T/4T and 4/6x.

View Raphael Muscle Child Costume purchasing details
As a child I grew up with the Turtle comics and then the famous cartoons. The movies were great and now with a new movie in the process the Turtles are about to make a surging return to are screens and homes.
That means, as already their are amazing costumes for children, more shall follow from our costume companies and I can not wait tom see these designs, though the costumes for children and even adults are quite brilliant and exciting
Save
Save