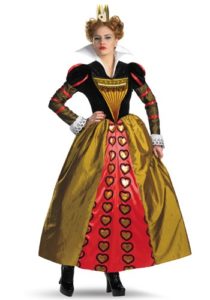 This amazing Red Queen Adult Costume
comes straight from the brilliant Alice In Wonderland Movie and is ready to be the talk of any Halloween party.
In 2010, Tim Burton made his Alice movie and from it the characters spawned new and exciting Halloween costumes and where the top sellers of last year, and for good reason.
In the movie, the Queen of Hearts was played by the talented Helena Bonham Carter and Tim did an amazing job on her crazy look.
The Alice In Wonderland story is a very popular story amongst children as well as adults and has given us many options for costume ideas.
There are a lot of different Queen of Hearts designs for adults and children you can view here.
This costume includes a queen of hearts style dress featuring heart embellishments on the full skirt, petticoat, stand up collar and a gold crown based on the look seen in Tim Burton's Alice in Wonderland.
It is available in Adult Sizes: Small, Medium and Large.

View Red Queen Adult Women's Costume purchasing details
There is a lot of detail gone in to the making of this costume which is one of the main reasons why we have chosen it as one of our favourites and a costume we love to show to our visitors, pure magic.
Aswell as our other favourite Queen of Hearts adult costume and the childs costume too, it is easy to see why we love them and why we recommend them due to the price and quality.
Queen of Heart costumes are constantly in demand and it is great to see the costume companies regularly create new and exciting designs such as this beauty. Be sure to check for sizes and availability.
Save
Save