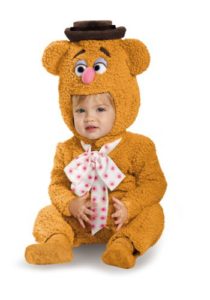 How cute is this Fozzie Bear Toddler Costume
seriously, it is just too cute and easily available online.
Fozzie Bear is such an icon, a very popular Muppet Show character and of course, the best friend of Kermit the Frog.
The Muppets have been a huge influence on us and especially now our children and have been with us for many years with tons of TV programmes as-well as many movies.
The Fozzie Bear costume is a popular Halloween costume and is a gorgeous cute costume and one of the best Muppets I have seen.
The Fozzie Bear Toddler Costume includes an orange jumpsuit with a white bow tie with polka dots and a matching character hood with attached brown hat and is available in Infant/Toddler Sizes: 1/2 (fits 6-12 Months) and 2/4T.

View Fozzie Bear Toddler Costume purchasing details
With the Muppets about to make a return to our screen, don't you know our children will go crazy for Muppets costumes for Halloween, fancy dress parties, birthday parties and so on and thankfully our costume companies are on to it and creating amazing designs such as this.
You can also get Fozzie Bear adult costumes so you can have some excellent family fun together matching with your child for trick or treating or during a birthday party, whatever you decide, be sure to check out sizes and availability.
Save