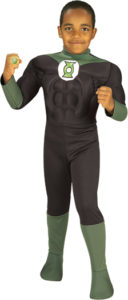 This Green Lantern – Hal Jordan Child Costume
is one of the best and most sought out Halloween costumes for the year 2011-12 and with good reason.
It is so cool and has everything that a costume should have and is also made for both boys and girls.
Superhero costumes seem to be the most popular theme this year and there are a whole load of amazing costumes in this theme (check out superhero page).
The Green Lantern is a popular comic book and this year was made in to a movie that starred Ryan Reynolds as the famous character Hal Jordan and was an instant hit amongst children.
Many cool costumes have been created to buy online and you can see a lot more by exploring our site and find that perfect Halloween costume for a child or adult.
This Hal Jordan Deluxe Light-Up Muscle Child Costume Includes eye mask, a cool muscle-bound jumpsuit with attached light-up logo, and a ring.
Available in Child Sizes: Small, Medium and Large.

View Hal Jordan Deluxe Muscle Child Costume purchasing details
Seriously how cool looking is this costume, one the best looking child costumes for boys or girls you will see and one of the most purchased online due to the movie.
There are many different Green Lantern costumes on our site for children and adults from Kilowog to Sinestro and Tomar-Re, all excellent looking costumes, unique and fun to wear.
Save
Save