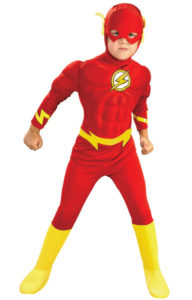 I love this Flash Muscle Child Costume
, it is a pure fun and exciting costume for a child and available for the Halloween and all year round.
The Flash is on the way back with a new movie in 2013 and the surge for these costumes will shoot through the roof.
Luckily there are some amazing costumes available for adults and children already.
Coming from the amazing DC Comics from over 60 years ago, The Flash has become one of the most famous and most loved superheroes to reach us mortals and there have been many comics, cartoons, TV programmes and a movie.
Because of this, some amazing Halloween and fancy dress costumes have bee created and as you can see on our site, some are just amazing looking.
This Flash costume includes a padded red muscle chest jumpsuit with attached yellow boot tops, yellow "lightning" belt and red headpiece.
Available in Kid's Sizes: Toddler (2-4), Small (4-6), Medium (8-10), Large (10-12).

View The Flash Muscle Chest Deluxe Child Costume purchasing details
Now, this to me is a wow! costume, seriously cool looking and a real child's superhero costume and popular amongst boys aswell as girls. I can not stress how much we love this costume on our site and I am sure it will feature as a costume of the week at some stage.
This costume will really sell like hot cakes as soon as the new Flash movie is released sometime next year and you can expect many more designs from the costume companies but none to me will top this one.
You can also get this costume for adults as well as younger child sizes which are well worth checking out. Be sure to check sizes and availability.
Save
Save