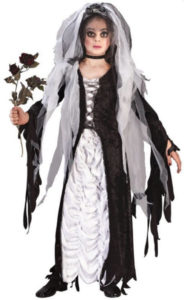 This Corpse Bride Child Costume
is a beautiful looking design and a perfect Halloween costume for any little girl.
In 2005, Tim Burton created one of my favorite Burton animated movies in the Corpse Bride and one of my favorite lovable characters in the gorgeous Emily voiced by Helena Bonham Carter.
This movie is a favorite amongst children and from this amazing character many excellent costumes have been created.
As you can see here, this Emily costume is excellent looking and a whole lot of fun to wear.
This costume includes a long white wedding dress with skeleton sleeve and headpiece and is available in child sizes: Small, Medium, and Large.

View Corpse Bride Child Costume purchasing details
It is a wonderful Halloween scary cute and beautiful costume.
Emily is a huge popular Tim Burton character and one of my favourite, The Corpse Bride been such an amazing movie and a must see, and these costumes for children are still as popular as ever and sell pretty well especially close to Halloween.
These are quite amazing looking and fun to wear and come in child to teen sizes. You can also get this costume in adult size and it is a stunning costume that must be seen.
Here at our site we love to bring to our visitors any costumes that are associated with Tim Burtons movies and there are many amazing costume available for adults and children that are well worth checking out.
Save
Save