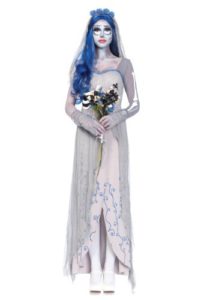 This Corpse Bride Costume
is a quality creepy yet beautiful Halloween costume and one of the most sought out to buy online whether it is for an adult or child.
Coming straight from the brilliant Corpse Bride movie that was created by the great Tim Burton and this costume is worn by the gorgeous lovable Emily who was voiced by Helena Bonham Carter.
It is a wonderful movie, much loved by both adults and children and at Halloween there is nothing better than dressing up in our favorite characters and none better than the amazing Emily from the Corpse Bride.
This costume includes: a short strapless lace dress with rib bones showing through, a long flowing sheer lace over skirt/train, lace veil, wig of yarn twist strands, and a bouquet of faux dead flowers.
Sizes available are Adult: Small, Medium or Large.

View Corpse Bride Costume purchasing details
Emily is one of if not my favourite Tim Burton creation and character, funny, creepily beautiful and eccentric. The Corpse Bride is an amazing movie and a must see if you haven't already.
This costume is still as popular today and sells pretty well especially around Halloween. You can also get this costume for children too that are well worth checking out.
On our site, we love researching and finding any costumes associated with Tim Burtons movies and love to bring them to our visitors, and there are many amazing classic costumes well worth checking out.
Save
Save