A Selection of the Best Superman Costumes Available For Children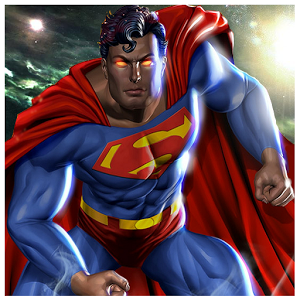 Superman,  the American superhero Icon, returned in 2013 with a bang in the great movie Man of Steel and once again has roused up the fancy dress juices of the public and people are gone crazy buying Superman inspired costumes for adults and children, even pets.
The man from Planet Krypton, Clark Kent,  has been around since  around 1938 when he first appeared in Action Comics before moving on to radio then to television and cartoons. A series of movies have been created, first in 1948 (Superman), 1950 (Atom Man vs Superman) 1951 (Superman and the Mole Man).
In 1978, a remake of Superman started of an iconic series of movies starring the late great Christopher Reeve and still probably the most popular Superman ever. 1980 saw Superman II and 1983 Superman III. All classic movies with never forgotten iconic music.
Once again, Clark returned in 2006 in Superman Returns and now in 2013 Man of Steel with a sequel set for release in 2015. With all these movies you can guess you will get plenty of amazing costumes for superman for adults and children aswell as his nemesis (make sure you check out General Zod and other  Kryptonian Nemesis costumes by clicking through to here)
Here on our site, we absolutely love Superman and the fancy dress costumes and bring you the best on the net for children.
Kids Fiber Optic Superman Costume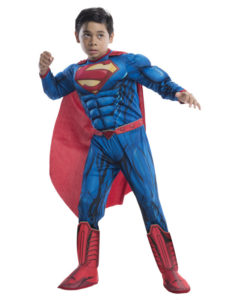 Superman is probably one of the most popular child costumes bought each year and never shows any sign of losing this popularity. Kids just love dressing up, and with it's capes and boots, red and blue, you can easily see the attraction these Superman costumes have to children.
Here we have an excellent  muscle costume from Costume Craze includes the fiberoptic Superman costume jumpsuit with muscle chest and attached boot tops, the cape and the molded belt.
A very popular choice of costume that sells out pretty quickly so be sure to check availability.
==> To buy or view this costume just click on through to here <==
Kids Superman Costume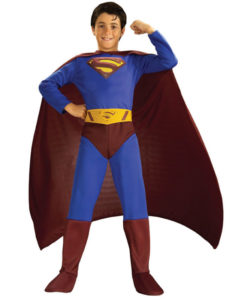 Absolutely love the simplicity of this costume. The cape is gorgeous and again another popular choice from Costume Craze.
Because of the movie Man of Steel you can guarantee that you will see young boys and girls (aswell as us adults) running wild around Halloween or at birthday parties wearing one of these costumes. This child Superman costume includes the Superman costume jumpsuit with attached boot tops, cape and belt. The "red" portion of this costume is more of a burgundy/brown color.
Head over to Costume Craze through the link below and check out these costumes, sizes, styles, there are tons to choose from.

==> To buy or view this costume just click on through to here <==
Superman Toddler Costume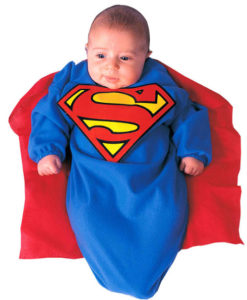 There is a massive choice of Superman costumes for toddlers and babies that are just way too cute and have to be seen. We have introduced a few here to our site (our favourites) but with a little research with the costume companies you will be spoiled for choice.
This toddler costume is just too cute and can be used for both boys or girls. Halloween Express has a fine range of these costumes in all sizes and of great quality ready to be shipped right to your door.
This costume includes: Character jumpsuit and red superhero cape. Available Sizes:2T-4T (1-2yrs)

==> To buy or view this costume just click on through to here <==
Superman with Chest Toddler / Child Costume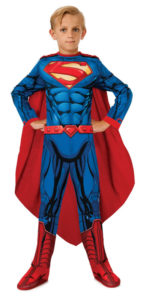 Superman will once again be returning to our screens in 2015 in a sequel to Man of Steel and will be battling along side or against Batman. This is going to send the costume fancy dress world in to a frenzy and I can see all the costume companies we introduce here on our site sell out fast.
Here we once again have a very popular seller from Buycostumes.com that are starting to sell out fast. People are purchasing costumes online more and more simply because the choice is amazing, the delivery is fast, the quality is excellent and dealing with the companies is simple.
This costume includes a blue jumpsuit featuring the "S" insignia, a muscle chest, and attached red boot tops. A bright red cape is also included in this super style. Available in Toddler and Child Sizes: Toddler (2T-4T) Small, Medium, Large.

==> To buy or view this costume just click on through to here <==
Kids Clark Kent or Superman Costume

Here is the ultimate costume for the child Superman fanatic and there are a lot out there. In our research of these costumes, we kept coming upon the search for a Clark Kent costume for children and are delighted to bring this excellent costume to our site.
This is such a fun way for a child to dress up, tons of fun, unique and sure to be a huge hit at any fancy dress party. This Clark Kent or Superman Costume includes the jacket/shirtfront with tie and muscle chest piece and the glasses.
There are plenty of sizes available yet we have not come across a Clark Kent costume for toddlers though we will keep up or searching. Check sizes with Costume Craze and order early as we stated, Superman costumes will be the big one this Halloween.

==> To buy or view this costume just click on through to here <==
Supergirl Toddler Costume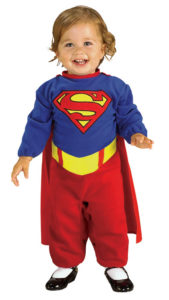 We came across this gorgeous costume for girls through and had to add it here to our Superman Page, it is just stunning and in our research have found that it sells very well and is quite popular with parents and children alike.
Supergirl had her own movie back in 1984 and is a must-watch for any young child.
This Supergirl Toddler costume features the signature "S" logo and an attached metallic belt. A cape and matching boot covers are also included in this superhero's style! Available in Toddler size Only

==> To buy or view this costume just click on through to here <==
Superman Costumes to be Number 1 this Halloween!
Well, that is our prediction. They are selling pretty well already and you can guarantee these costume companies will start running out of sizes before Halloween even begins. All costumes are under $40 and delivery is next day, a brilliant service. Check out the prices, sizes, styles and availability by clicking on through.
We will be updating this page as soon as other Superman costumes (costumes we want on our site for our visitors)  become available. Thank you for visiting, leave a comment below on what you think of these costumes.
Save
Save