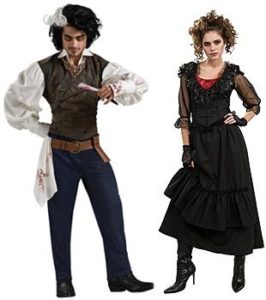 Here we have a really cool scary choice of costumes for the Halloween for either men or women and these pair of crazy characters make a great couples costume idea, a perfect fancy dress costume pairing.
In 2007 Tim Burton brought us his crazy musical Sweeney Todd:The Demon Barber Of Fleet Street and I have to say, though it was very gory, I loved it and love anything Burton does.
First we have up here the Sweeney Todd costume.
Mr Todd was played by Johnny Depp in the movie and played very well very creepy.
This costume includes: A grey vest with an attached shirt and dickie, and a pair of black pin stripe pants.
Until now their shine was merely silver, but they'll soon drip precious rubies! Available in size: Standard and X-Large.
Mrs Lovett who became Sweeney's side kick through the movie and ended up chopping up the victims and cooking them in pies was played by Helena Bonham Carter and make a perfect Halloween partner for Todd.
Her costume includes a Victorian era black dress featuring a fitted princess line bodice, a v neckline accented in tulle with attached red chemise, sheer three quarter sleeves with lace cuffs, and a pleated dress-apron skirt which falls just above the ankles.
Available in Women's Standard Size: One size fits most Adults.
If you are in search of the perfect couples costume Idea then look no further than this pair of crazies that brace our site with delight.
Couples going to fancy dress parties really need to compliment each other and look the part and these two really do turn heads when you enter parties, pure crazy class.


Save
Save