Captain America and The Avengers, About to Take Over Halloween!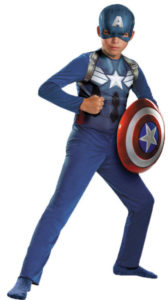 Though it's only May, the costume explosion usually starts around this time of year due to block-buster movies beginning now and throughout the summer and our first big costume madness we are going to be bringing to our site is The Avengers: Age of Ultron.
There are many amazing characters in this movie that are going to have costume lovers, adults and children going wild and first up we are going to bring you the brave and brilliant Captain America and you can go check out all the costumes available for men, women and children below.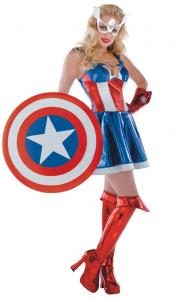 Marvel fans are going to go nuts for Avenger Costumes this year and we are making an early prediction that these will be this year's biggest sellers (possibly along with Frozen Costumes which are still in demand). We will be bringing you costumes also from The Hulk, Thor, Iron Man, Black Widow and Hawkeye and boy will you love these costumes.
Let's start with Captain America played by Chris Evans in the movie. Today we bring you some amazing Captain America costumes for women, Men, children and there are even costumes for pets.
As the co-leader of the Avengers these costumes, probably on par with Iron Man, will be the most popular. There are costumes below from the first Avengers movie 2012 as well as Captain America: The First Avenger 2011 and they are brought to you by many costume shops.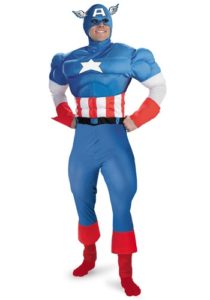 These are quality costumes that come in all sizes for adults and children as well as many different styles that you can see. Most costumes include fiber filled muscle chest jumpsuit with attached boot tops, gloves, belt and mask. You can also get the shield which is of course one of the most important and amazing looking props for any costume around.
With this Avengers: Age of Ultron movie so popular and with many Marvel fans hungry for these types of costumes especially for the coming Halloween, you can bet these will start selling out by October possibly September so be sure to purchase early.
Save
Save