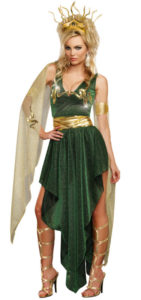 How stunning is this Mystic Medusa Adult Costume
, it is one of my favorite costumes I have seen and it has Halloween written all over it.
If you are a lady looking to turn heads, make people stop and stare, add some scary sexiness with an edge for the coming Halloween or any fancy dress party, well this costume tops all others.
Medusa is from Greek Mythology and if you read her story it is pretty horrifying and sad.
She also appeared in the "Clash of the Titans" movies of 1981 and 2010.
This costume is stunning, and also a perfect couples costume idea if you team up with Perseus or Calibos.

View Mystic Medusa Adult Costume purchasing details
This Mystic Medusa Adult Costume includes a green dress, glovettes with draping fabric*, snake headpiece (featuring 9 snakes), and leg ties. Available in Adult Sizes: Small, Medium, and Large, a true Halloween costume.
While researching Medusa costumes and how popular they are and sell each year, this is one of the best and most popular we have come across, it really is a stunning unique costume.
For what Medusa represents and because of her story and striking look it is easy to see why constantly these costumes sell and are delivered worldwide to costumers.
Be sure to check for sizes and availability and if by chance you do buy and wear this costume to a fancy dress party, please be sure to send us some photos to add to our site as we love this costume and would love to add it to our photos.
Save
Save