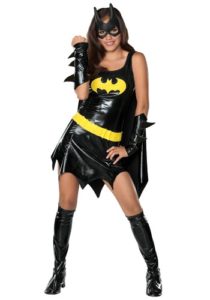 One of the best sellers this year for teens so far is this Batgirl Teen Costume
and we can all guess why, simply because of the new, amazing Batman movie this year, but also because it is an amazing looking and fun costume.
Batgirl has appeared in DC Comics since the earl 60's and was originally under the name Betty Kane and then replaced by Barbara Gordon. Shen then made her appearance in the third season of the Batman TV series.
Batgirl has been very popular amongst children and adults in comics and TV cartoons ever since, and luckily there are amazing costumes available for younger children and also for adults, but it is in the teens that this costume is truly popular.
This gorgeous costume includes a black mini dress with yellow bat logo, attached black cape, glovelets, black character eyemask, yellow vinyl belt, and black boot tops and is Available in Standard Teen Size (2-6).

View DC Comics Batgirl Teen Costume purchasing details
It is a wonder whether, like the Batman movies, will there ever be a Batgirl movie, remains to be seen.
This costume will have any teen, wanting to make an impression at a fancy dress party, stand out amongst the crowd. Pure class and available to be delivered straight to your door, depending on availability.
Save
Save