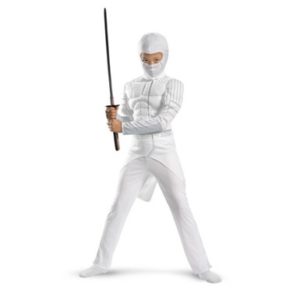 Just look how cool looking this Storm Shadow Classic Child Costume
is.
It is an awesome costume and one of my favorites here at our site simply because it can be worn and loved by both girls and boys and makes the perfect Halloween fun costume.
With so many Ninja costume designs and styles to choose from, this may be just the winner.
All kids love Ninjas, and when you read up on Ninja History it is easy to see why.
But, since the 80's cartoon and upwards of the brilliant GI Joe and the 2010 movie "Rise of the Cobra", the search for these costumes has gone through the roof with Storm Shadow been one of the most popular especially at Halloween.
This costume features a white ninja-style top with attached belt, white pants, a fabric hood and white fingerless gloves. Available in Child Sizes: Small, Medium, Large.

View Storm Shadow Classic Muscle Child Costume purchasing details
I really love the look of this costume and it is easy to see why it is popular amongst boys as well as girls, it is just to cool looking. Ninjas never go out of fashion and these types of costumes sell very well throughout the year.
Just like the Stealth Ninja costume, the quality and design is of the highest standard. Be sure to check availability as these costumes tend to sell out quickly.
Save
Save