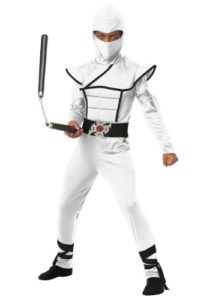 Just looking at this Stealth Ninja Child Costume
you can easily see why Ninja costumes become more popular year by year.
Whether it is for Halloween, a fancy dress party, birthday or Christmas, these costumes are loved by both girls and boys and come in many different styles and designs.
Ninjas are everywhere in popular culture from cartoons such as GI Joe or the brilliant Teenage Mutant Ninja Turtles (View Costumes Here)
To comics, TV Programmes and movies and with their warrior daring and brave costume look and the ability to be invisible and a deadly assassin, you can see why they are so popular at Halloween.
This Stealth Ninja Costume includes: A jumpsuit with attached molded chest armor, hood with detached mask and belt with attached ninja stars.
Available in Child Sizes: Small, Medium and Large.

View Stealth Ninja Child Costume purchasing details
Seriously, how cool and exciting looking is this costume, perfect for boys or girls. You may notice on this site we have a love especially myself for all Ninja costumes simply because they are just amazing looking, the perfect costume for children and adults.
You can really get a lot of use out of a Ninja costume, whether it is for a birthday, Halloween, Christmas etc. they really are costumes for all year round, and here on our site we have so many different styles and designs of Ninjas you really are spoiled for choice.
Save
Save