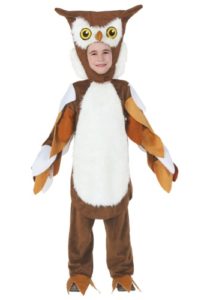 This Soren Toddler Costume
is just super cool and cute, and any fan of these characters will love this costume.
The Legend Of The Guardian-Owls Of Ga'Hoole have in recent years become quite popular indeed and appealing to the Harry Potter fans as well as the rest of the world.
These were a series of books written by Kathryn Lasky and in 2010 an Owls of Ga'Hoole movie was made and was a huge hit amongst children.
It is an amazing Halloween costume and very popular indeed.
This adorable ensemble includes a soft tan and white plush jumpsuit that features a zip front closure, an attached character hood, and cute shoe covers. Sure to make your little guy's next costume event a hoot.
Available in Child sizes: Small 4-6 and Medium 8-10.

View Soren Toddler Costume purchasing details
If you are searching online for an owl costume for your child, you are bound to come across this stunning costume aswell as the Hedwig Owl costume from Harry Potter, two of our most popular owl costumes on our site.
They are both equally as cute, and equally as popular amongst children and are available from most costume companies for delivery right to your door, please check sizes and availability.
Save
Save