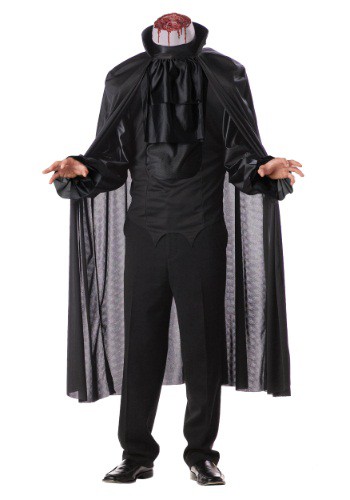 This Headless Horseman Child Costume
is a true fun scary and unique costume for children, boys or girls, for Halloween or any fancy dress party.
In 1999, Tim Burton made the movie Sleepy Hollow starring again Johnny Depp which featured the Headless Horseman and was a pretty scary yet entertaining movie.
Because of this we can find some excellent Headless Horseman costumes like this one here which has been created specifically for children.
This costume which includes: A glossy black shirt featuring attached vest, cape and ascot, inflatable shoulder components and a freshly decapitated looking headpiece is also available in Child Sizes: 8-10, 10-12 and 12-14.
A true scary Halloween classic costume.

View Headless Horseman Child Costume purchasing details
How cool looking is this costume, I wish they had it in adult size, I love the severed head and blood look, pure Halloween class. This is quite a popular costume and you can see by looking at it why children would go wild for this costume.
On our site, we tend to look for the weird and wonderful costumes for children and this is definitely one of our favourite to have added to our site. Be sure to check availability as this costume tends to sell out pretty quickly especially nearing Halloween.
Save
Save