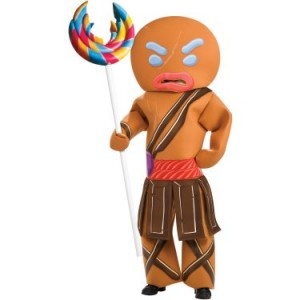 Looking for something outrageously different in a costume this Halloween, then look no further than the Gingerbread Man costumes available as they are excellent and pure crazy looking, and perfect for children or adults.
The Gingerbread Man, or Gingy as he is nicked name is a wonderful character from the brilliant Shrek movies, a talking cookie who helps Shrek along on his quests. He was created by the muffin man and is very small and fast, making it very hard to catch him. He is made off Gingerbread with icing and gumdrops, a typical Gingerbread cookie look, one that make up an extravagant looking costume.
Gingy is a great character and much loved. He is clever, cunning, a little impatient, a little bit wild and a prankster. He is a very funny character, especially his voice, and bracing around this Halloween or for any fancy dress party, wearing a Gingy costume, is sure to turn heads.
There are a few costumes available, some are the Gingerbread Man costumes from the first movie and there is also the excellent Gingerbread warrior costume. These costumes include a brown jumpsuit with the Gingerbread signature confections on it, while the Warrior costume braces an attached Roman style skirt and printed candy belt.
An over sized awesome head-piece is also included making these costumes truly unique with their quirky look. The best thing about these costumes is they are for both adults and children, male or female and come is all sizes from small, medium, large or plus size, catering for everybody.
Shrek Halloween costumes are extremely popular but going for something different like this, considering it is a crazy fun costume for any child or adult to wear, would have you the talk of any Halloween or fancy dress party this year, and probably for years after.
Gingerbread man costumes also come in Roman style Warrior edition, a popular costume amongst children, and includes a brown jumpsuit that features an attached roman style warrior skirt and printed candy belt along with a classic fun looking lollipop spear, we love it here on our site.
Very unique and available for both adults and children, though it seems to be more popular with kids due to the size of the Gingerbread mans head, which you can look out through the big smiling lips.
Out of all the Shrek costumes I have seen, this is probably the favourite, a lot of fun to wear and very Halloween.
Save
Save