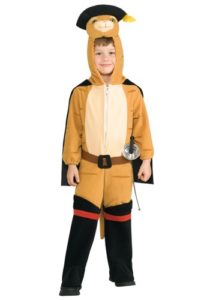 Loving this Puss in Boots Toddler Costume
, it is just to cute and a well made top quality Halloween costume and becoming a popular favorite.
Most kids love the Shrek Movies, as do us adults and there are a lot of fantastic characters from these movies giving us a wide choice of amazing costumes for our kids as well as us adults.
One of the most popular characters from the movies is Puss 'n Boots, voiced by Antonio Banderas, and loved by children.
In 2011, a spin off from Shrek will be released in December Called Puss In Boots so you can expect these costumes to be very popular.
Here we have a really cool and cute costume for this character, one that is unique and a perfect Halloween trick or treat costume.
This costume includes: A cat musketeer romper with attached cape, belt and tail and a character headpiece with attached hat. Available in Infant/Toddler Sizes: 6-12Months, 2-4T.

View Deluxe Puss in Boots Toddler Costume purchasing details
Because of the movie, these costumes which are also available for older children, have been very popular indeed and have run out of stock on numerous occasions.
Puss N' Boots is an entertaining character, one that children love and adore and with this classic costume will get the chance to be there favourite Shrek movie character. Be sure to check out sizes and availability.
Save
Save