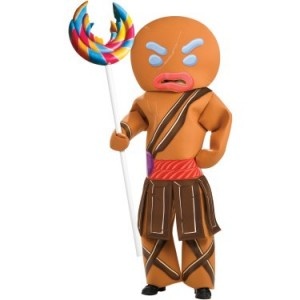 These Gingerbread Warrior Child Costumes
are some of the best costumes I have seen for children available for the Halloween and all year round.
Coming straight from the amazing Shrek Movies, just like last year, these will be one of the most popular costumes bought this year and as you can see with great reason.
Gingy the Gingerbread man is a popular Shrek character indeed and luckily with all the other amazing Shrek character costumes available, you can get some for Gingy.
Also, these costumes are available for adults too (view here).
This costume includes a brown jumpsuit that features an attached roman style warrior skirt and printed candy belt.
An awesome gingerbread headpiece is also included to complete this look. Available in Child sizes: Small 4-6, Medium 8-10, and Large 12-14.

View all Gingerbread Warrior Child Costume purchasing details
If you are looking for a unique costume for your child for the Halloween or any fancy dress party then you really can't go wrong with Gingy the Gingerbread Man from the movies.
While most tend to go towards the obvious for their children, this costume is one of the most unique and unknown yet amazing costumes you could purchase for your child, just think how amazingly cool a child would feel wearing this costume amongst friends.
Aswell as Gingy, you can also view Shrek costumes, Princess Fiona, Donkey, and Puss N Boots costumes for children aswell as adults here on our site so be sure to check them out.
Save