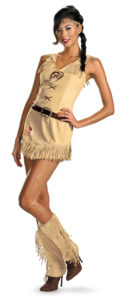 Here we have a Sexy Tonto Adult Costume
, the trusted and best friend of the great Lone Ranger and just in time for the coming Halloween.
Most of us have heard about the Lone Ranger and we all know about his best friend Tonto.
In the 50's, this was a very popular TV series, actually, the most popular of the 50's and it spawned a few movies too, in which a new movie is in the making as we type.
Tonto, was the partner of the Lone Ranger and you too could be a partner with this gorgeous Tonto costume.
We have an excellent Mens Lone Ranger Costume as well as a very Sexy Lone Ranger womens costume and with these costumes they have been very popular amongst couples especially for fancy dress parties and of course Halloween.
This sexy sidekick's style includes: An adorable Indian style dress featuring fringe and lace up details, matching headband, boot covers and a belt. Available in Adult Sizes: Small, Medium and Large. Includes: Dress, Belt, Leg Warmers, Headband.

View Sexy Tonto Adult Costume purchasing details
This stunning Tonto costume is a popular choice amongst couples looking for costume ideas for their fancy dress party. Pairing up with the Lone Ranger is great fun and will have people tunring heads in your direction at any fancy dress party you attend.
Be sure to check sizes and and availability as last checked these costumes were pretty popular and selling well.
Save