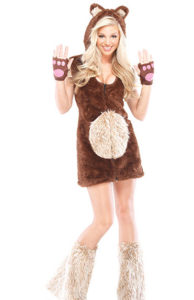 Looking for a unique sexy costume, look no further than this Teddy Bear Costume
.
If it is a costume for Halloween or a seasonal fancy dress party you can easily stand out with this gorgeous Bear costume.
Teddy Bears will always be popular amongst children but even us adults, and looking for unique costume to catch the eye this year you will be able to easily turn heads with this one.
Her fuzzy and snugly sexy costume features a brown plush hooded front zip dress with fuzzy front pocket and sleeve details and ears, matching fuzzy boot covers, and brown fingerless gloves with pink paw print detail. Available in Adult Sizes: Small/Medium and Medium/Large. So so cute and a perfect Halloween costume.
Again, as we have researched many classy costumes such as this Teddy Bear costume we are privileged to add it to our site.
We have many sexy costume on our site but this is definitely one of the cutest and most popular purchases from the costume companies.
There is a huge market for sexy yet fun costumes for ladies to wear to fancy dress costumes and you really are spoiled for choice. We hope to bring costumes to our site that stray from tackiness and are of a higher quality and standard to suit all tastes.
Save
Save