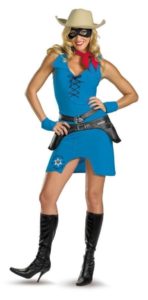 Looking at this Sexy Lone Ranger Costume
you can easily see why it is such a popular ladies costume due to the fact it is gorgeous with a bit of class.
The Lone Ranger may be well knowing as the ultimate cowboy but as you can easily see here The Lone Ranger also makes an unique sexy cowgirl, a perfect costume for Halloween or any fancy dress party whether it is a birthday or office party.
The Lone Ranger was a very popular TV programme in the 50's and is due to make a revival.
This costume has already been a massive hit and is popular amongst couples where you can get a Lone Ranger mans costume or else a Sexy Tonto costume, leading to plenty of crazy Halloween fun.
Get ready for a wild rid in the Sassy Lone Ranger costume which includes: A bold blue dress with lace up detail, matching cuffs, eyemask, crimson scarf, cowgirl hat, printed belt and holster.
Available in Adult Sizes: Small, Medium and Large. Includes: Dress, Hat, Holster, Belt, Cuffs, Eyemask, Scarf.

View Sexy Lone Ranger Adult Costume purchasing details
I really love the simplicity of this classic costume. The Lone Ranger is returning to our screens in a new movie in the next year and with this movie you will see a huge rise in purchases of Lone Ranger costumes.
This costume, one of our favorites on our site, is a gorgeous costume indeed and already a popular purchase all year round. So be sure to check out sizes available.
Save