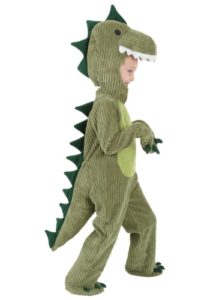 How Cool is this Rex Deluxe Child Costume
, one of the funniest costumes for a child around that I have seen and a big Halloween winner.
This is a seriously fun costume for any child that is a Toy Story fan and will make your child stand out from the crowd this year.
Though there are many cool costumes from this movie here on our site for children, this is definitely one of the most unique and craziest of them all.
Rex is one of my favorite characters, actually, probably my favorite, just so funny and is also a huge hit with children too.
Wearing this funny costume at Halloween can only bring the best of fun and laughter to a child.
This costume includes a green shirt with light green belly, a Rex headpiece with eyes, teeth, and a face opening in the mouth, green gloves, and a detachable tail. Available in Toddler/Child Sizes: 3T-4T, Small (4-6), and Medium (7-8).

View Rex Deluxe Toddler / Child Costume purchasing details
This Rex costume is just as popular as our Woody Costume and both sell like hot cakes, even now, a few years since the last movie. Toy Story and its characters will never lose there popularity and will be loved by generations to come.
There are many Toy Story costumes on our site available for children and adults and that is due to the demand and hunger by children for the best and favourite character costume. Be sure to check availability and sizes.
Save
Save