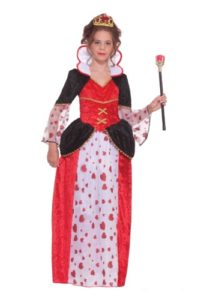 This Queen of Hearts Costume
is one of my favorite child costumes I have come across, pure magic and stunning and an amazing Halloween treat.
The Story of Alice in Wonderland is so popular amongst children as well as adults and there are so many fabulous characters that it is hard to choose a favorite.
But, The Queen Of Hearts and her fiery temper is one of the most popular characters of all time and one of the most sought out Halloween costumes in the past few years.
In 2010, Tim Burton made his version of the story with Alice In Wonderland and the queen was played by Helena Bonham Carter.
Her character fired a surge in the search for these costumes and many different styles and designs were made.
You can see the designs for these costumes here. This costume here Includes: Full length gown with printed heart details and gold trim, tulle petticoat, velvet jeweled choker and sequined heart tiara.

View Alice in Wonderland Queen of Hearts Costume purchasing details
This costume is just way to cute and stunning. With so much detail and the character this costume portrays you can easily see why this costume is so popular and regularly purchased all year round from our costume companies.
You can also get this costume in Adult size which is equally as stunning and well worth checking out. Be sure to check sizes and availability when looking for the child costume. Your kid will love this costume and will want to impress their friends at any fancy dress party.
Save
Save