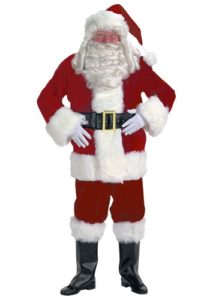 Probably the most sought out costume online for the year is the Santa suit for adults
, at this time of the year, especially around November, our costume companies that we work along side with, start running out.
We have researched and looked at hundreds of Santa costumes available to buy online and only came across a handful that are of the standard we want to add to our site. It is an exciting time of the year, and finding the right Santa suit is important, and hopefully, with the costume we have selected here you will not be disappointed.
This is a 10 piece suit set nicely put together and very comfortable. It includes a dark, rich red Velvet jacket trimmed in luxurious white long hair, pants with pockets, Santa hat, belt with buckle, boot tops with matching white longhair cuff, gloves, glasses, eyebrow stick and deluxe washable wig and beard set and is available in Adult size: Standard and XL.

View Santa Costume Purchasing Details
The hat is oversized, but might be able to size down. Pants are great with the elastic waist. The belt is huge. The coat has a good quality zipper and the quality of the beard is outstanding.
The boots really complete the outfit yet the boot tops are great over a pair of black dress shoes, so purchasing boots is not necessary.
These suits are purchased for many occasions such as simple family fun, for community organisations, for shopping malls and centers, community plays, for people wearing it for several events this season and so on and as this costume has received great reviews, it is the perfect fit for our site.
This Christmas, instead of hiring or borrowing, make a small investment that you will get plenty of use from and most of all enjoy playing one of the most famous characters in the world.
Save
Save