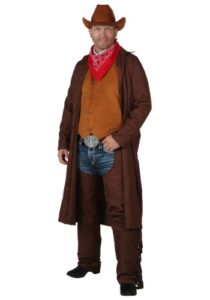 This Western Gunslinger Adult Costume
is just one of the many cool and excellent cowboy costumes available at this site.
Whether it is for Halloween or a themed fancy dress party, you will always see a cool cowboy costume come in to the scene.
Cowboys have always been popular amongst men and especially popular when it comes to costume selections due to the vast amount available.
Just like the Lone Ranger costume, there have been other famous cowboys in movies from John Wayne to Clint Eastwood and so on and there will always be a demand for these type of costumes especially at Halloween.
This five-piece costume set features a black cowboy hat with dark brown band, black duster-style coat, double-breasted black and white pin-striped vest, white dickey with collar and attached silver cravat, as well as two holsters.

View Western Gunslinger Adult Costume purchasing details
Available in Men's Sizes: Medium (40-42), Large (42-44), X-Large (44-46). Includes: Hat, Duster, Vest, Dickey, Holsters.
Yep, the Cowboy costume is as popular as ever. I have read the interviews with Johnny Depp about the new Lone Ranger Movie and as soon as that is released I can see a huge surge once again for these type of costumes and lucky enough there are hundreds to choose from.
Save