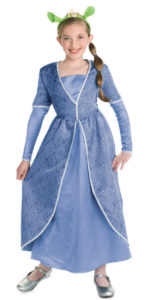 Here we have this Girls Princess Fiona Costume
which is one of the most gorgeous costumes available for the Halloween and all year round for little girls.
Seriously, this is such a cute costume and easy to see why it is so popular.
The Shrek movies have giving us a wide range of costume choices with all the amazing characters that are involved, but for little girls, Fiona wins hands down.
In the movie, Princess Fiona is the beloved of Shrek and voiced by the great Cameron Diaz.
Her character is loved by all little girls and there are many different styles and designs available for her (view here for more) and you can also get these for Adults too (view here).
This Fiona costume includes a green princess dress with tear away sleeves, gold colored tiara, and Shrek tattoos.
Available in child sizes Toddler, Small, and Medium. Be Unique this Halloween and enjoy this very different Princess costume.

View Girls Princess Fiona Costume purchasing details
There is no denying that the Shrek character are not losing there popularity one bit, and each year they still sell like hot cakes. Be it Shrek, Fiona, Donkey, Puss N' Boots or Ginger Bread Man, there are plenty of amazing costumes for adults and children in all sizes and designs, be sure to check them out
Save