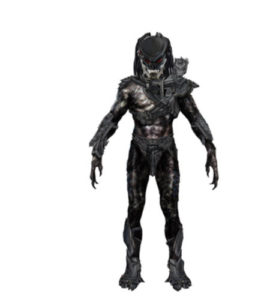 Seriously, how cool and mentally scary looking is this Predator Costume
.
Out of all the Halloween costumes online this is my favorite because it is just a proper scary  looking Halloween costume and of course, I am a huge fan of the movies.
In 1987, the first Predator movie was made, a classic testosterone movie starring the one and only Arnold Schwarzenegger and this movie now has a huge cult following hence why these costumes are so popular.
There where some follow up Predator Movies which brought us slightly different looking Predators which was great as it gave us some other different looking Predator Costumes.
This one here is an inspired jumpsuit with attached chest molded piece, black molded belt, arm and leg guards, Predator hands, and a frightening Predator mask.
When this costume comes together, you'll have no chance of survival! Available in One Size Fits Most Adults.

View Predator Adult Costume purchasing details
Includes: Jumpsuit, arm and leg guards, belt, hands, and mask. A real Halloween scary monster costume.
Though it is hard to find Predator Costumes for children, these costumes can be adjusted and altered to fit children. I have never understood why this costume was not made child size but as stated, can be adjusted.
The Predator movies never lose their popularity and either does the hunt for these types of costumes. Lucky enough there are a few designs that we have here on our site and I am privileged to include this one simply because I love it and I am a huge fan , and really, how cool looking is this costumes.
Save
Save