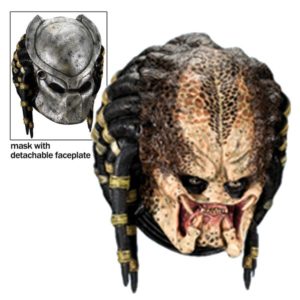 Predator the movie is still as popular today as it was back in 1987, yes 1987, nearly 30 years old and the costumes, masks and props still sell like hot cakes every year.
We always notice visitors to our sites in search of Predator costumes, to see what costumes are available to buy and luckily enough there are some amazing ones available.
But we also get a lot of email wondering about Predator masks and accessories so today we have found some amazing masks, gloves, boots etc for you to go check out and get delivered right to your door step.
There are some amazing Predator masks
available to buy online to prepare for Halloween or any fancy dress party. The Predator movies are classics and have a huge cult following. People love to dress up as this beast of an alien and this can now be easily achieved with these great masks and hands.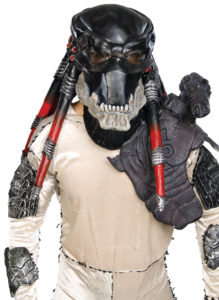 Most masks and hands are made for adults and children, just check the size. There are plenty of different styles and designs and you can check out a full list of some cool masks, boots, and hands on the accessories page below.
These unique latex masks offer some separate dreadlocks, deluxe paint job and closed mouth mandible so the Predator Helmet can fit into place. Removable plastic faceplate also included, covers face of mask only, and is held in place by elastic bands, while the hands are a pair of super detailed collector quality Latex Alien hands, really cool Halloween scary products.
Save
Save