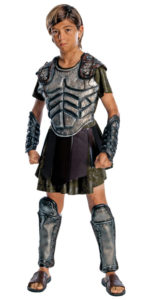 This cool Perseus Child Costume
is a fantastic costume for the boy or girl looking for a unique crazy yet brave Halloween costume.
Little warrior costumes are always very popular especially this time of the year and when you can add in armor, swords and shields you really are on to a winner.
In 2010, a remake was made of the 1981 classic movie "Clash of the Titans", a story of mixed Greek and Roman mythology with heroes, villains, monsters and gods and because of all these characters, has giving us some amazing characters.
The main hero is Perseus and there are plenty of costumes available for both kids and adults and seem to be big Halloween sellers.
This costume includes a tunic, a cool molded chest piece, gauntlets and shin guards. Sure to be a legend among your friends this Halloween! Available in Child sizes: Small 4-6, Medium 8-10, and Large 12-14.

View Deluxe Perseus Child Costume purchasing details
There is something pretty darn cool about this hero costume that you know any young child is going to love to wear and show off to friends.
Because of the release of once again another Clash of the Titans movie you can see these costumes been popular once again and costume companies seem to be keeping on top of this. This costume is also available for adults too so be sure to check them out.
Save
Save