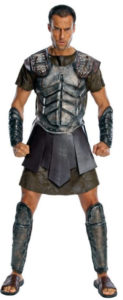 This Perseus Adult Costume
is an excellent classic mans costume full of power strength and fighting ability and is perfect for the coming Halloween for anyone wanting to stand out from the crowd.
So far this year the demand is nearly as good as it was last year which is great because I really like this one.
Perseus is a true hero, half human and half God from Greek Mythology and was seen in the hit movies "The Clash Of The Titans" in 1981 and 2010 where he cut of the head of Medusa and slayed the Kraken.
For Halloween you can't really go wrong with this classic costume.
It includes a worn looking tunic, molded body armor featuring chiseled chest and abs, arm gauntlets with stud details and matching shin guards. Available in Adult Sizes: Standard and X-Large.

View Deluxe Perseus Adult Costume purchasing details
I really like to design of the tunic here for this costume which is also available in child size. It has a real hero look about it and is a lot of fun to wear. With another movie in the cinemas the demand, once again for these costumes will be huge so be sure to check availability and sizes before purchasing.
Save
Save