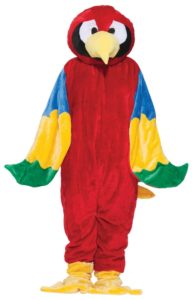 Mascot costumes are all the rage and this Parrot Mascot Adult Costume
is just another cool mascot costume you can get online and on our site.
Buying a mascot costume online is easier these days and ready to be delivered right to your door which is fantastic.
Whether the Mascot costume you want is for Halloween or a school, this Parrot costume is probably one of our most fun costumes available.
Mascots are very popular with schools, colleges, sporting events and so on but more and more people are buying mascot costumes (the cheaper versions and not the costumes priced in the thousands) and using them for birthday parties, parades, Halloween, Christmas, Easter or for just some family fun, and it is not just in the USA but worldwide.
This costumes includes: Jumpsuit with red body and blue, yellow and green striped wings, separate parrot headpiece with see through eye mesh, and yellow foot covers. Available in Adult Standard Size: One-Size Fits Most Adults.

View Parrot Economy Mascot Adult Costume purchasing details
Here on our site we tend to have a great selection of Mascot costumes, but the costumes we seek are always within the price range that is available for people to spend who are just looking to use these costumes for fun.
This parrot costume is perfect for you if you have a small budget and is of the highest quality and is available in all sizes and ready to ship next day. We love our mascot costumes, and if you do purchase and wear, and take photos, please send to us so we can add to our site.
Save
Save