Guardians of Ga'Hoole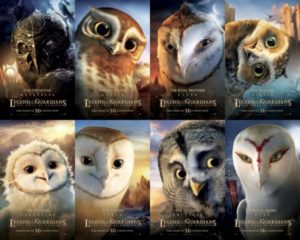 The Guardians of Ga'Hoole were written Kathryn Lasky and are an epic fantasy book series with a whooping 15 books.
The brilliant 3D movie "Legends of the Guardians: The Owls of Ga'Hoole" is the first three volumes of the series (The Capture, The Journey, and The Rescue) and has been directed by Zack Snyder and made by Warner Bros.
The movie mostly follows the adventures of the young Barn Owl Soren, voiced by Jim Sturgess. Soren gets abducted by an evil Owl army and is made in to a slave. There he meets other kidnapped Owls and makes friends, but also enemies. Eventually Soren and a friend Gylfie escape. Meeting up with other Owls along the way they set of on a journey to the island of the great Ga'Hoole trees in search of help for the other enslaved Owls.
And so begins a gripping tale with battles, heroism and great story telling. The visuals are excellent, fast and exciting. There are so many lovable Owl characters, and so many great scenes, making this a very enjoyable movie, which I'm sure a series of movies will follow suit, introducing a lot more characters.
Here we have a list of the characters from the books….
Soren: A barn owl, Soren is the main protagonist of the series. He has two siblings: Kludd and Eglantine. His mate is Pellimore; they have three young chicks: Blythe, Bash and Bell.
Kludd : Kludd is Soren's older brother. He is a large, brutal Barn owl and, for a time, is the leader of the Pure Ones. He is killed by Twilight in Book 6.
Eglantine: Soren's younger sister, she has been captured by Kludd after her parents death and has been "shattered" twice by the Pure Ones
Gylfie: Soren's best friend, she met him in St.Aegolius canyons. She is an Elf Owl.
Twilight: An orphaned Great Grey owl, he has lived his entire life with no family. He was raised by various creatures, including foxes. Twilight found his two brothers Tavis and Cleavus in book 15.
Digger: A Burrowing owl, his family has been killed and eaten by Jutt and Jatt (agents of St. Aegolius).
Otulissa: Know-it-all Spotted owl, member of the Chaw of Chaws.
Grimble: An improperly "moonblinked" Boreal owl, he was captured by Skench and Spoorn because of his fighting skills. He was killed by Skench at the end of The Capture because he taught Gylfie and Soren how to fly, which led to their escape from St. Aegolius School for Orphaned Owls.
Spoorn: First lieutenant to Skench.
Auntie: A Snowy owl, also known as Finny, she was Soren's pit guardian while he was in St. Aegolius. She is a egg eater and also supposedly killed Hortense.
Unk: A Great Horned Owl, Unk was Gylfie's pit guardian during her stay at St. Aegolius.
Hortense: Later known as Mist, Hortense is a small spotted owl who has handicapped wings. She is a "Slipgizzle" for the Ga'Hoole tree.
Zan: An eagle, mate of Streak, Zan is a friend of Hortense. Had her tongue ripped out by Auntie.
Streak: An eagle who is the mate of Zan.
Pellimore: Soren's mate. She has three owlets with him. Pelli seems like a very kind owl to all.
Blythe: – A female Barn Owl. The eldest daughter of Soren and Pellimore. An excellent singer and is also quite smart.
Bash: – A female Barn Owl. The second daughter of Soren and Pellimore.
Bell: – A female Barn Owl. The youngest daughter of Soren and Pellimore. She once trusted the Striga after he rescued her.
Nyroc: Also known as Coryn, Nyroc is Nyra and Kludd's son. He defies his parents' ways and later becomes the King of the Ga'Hoole tree
Dustytuft: Also called Phillip by Nyroc. He is one of Nyroc's friends. Killed by Nyra.
The Rogue Smith of Silverveil (Aka: Thora Plonk): The sister of Madame Plonk. She is killed by Nyra.
Madame Plonk: The sister of the Rogue Smith of Silverveil, she sings for the Great Ga' hoole tree.
Ezylryb: An old Whiskered Screech Owl from the northern kingdoms, he was a talented warrior and later became a ryb at the Ga' Hoole Tree. His real name is Lyze of Kiel and he has became a famous owl in both the northern and southern kingdoms.
Octavia: The nest-maid snake/ Kielian snake of both Ezylryb and Madame Plonk, she lost her eyes in a battle.
Mrs. Plithiver: Former nest-maid for Soren's family; now a member of the harp guild at the Great Ga'Hoole tree.
Primrose: Pygmy Owl, Eglantine's best friend.
Simon: A pilgrim owl of the Glauxian Brothers of the Northern Kingdoms, killed by Kludd after rescuing him from certain death.
Nyra: Kludd's mate, becomes leader of the Pure Ones after his death and turns into a haggish creature.
Boron: A Snowy Owl, King of the great Ga'Hoole tree. Dies when Coryn retrieves the ember.
Barran: A Snowy Owl, Queen of the great Ga'Hoole tree. Dies when Coryn retrieves the ember.
Bubo: A Great Horned Owl, Blacksmith of the Ga'Hoole tree.
Dewlap: The Ga'Hoolology ryb at the Ga'Hoole tree; betrayed the tree during the siege by the Pure Ones. Gets taken to the Glauxian sisters' retreat to live out her days.
Strix Struma: the navigation ryb at the Ga'Hoole tree; killed during the siege of the tree.
Ruby: short-eared owl, excellent flier and member of the Chaw of Chaws
Ginger: barn owl, one of the Pure Ones, she shattered Eglantine.
Martin: northern saw-whet owl, intuitive and member of the Chaw of Chaws.
Gwyndor: masked owl a Rougue smith summoned by the Pure Ones for a ceremony on Kludd's (Metal Beak) bones.
Tengshu: the sage of the jouzhen kingdom
As we can see, there are a lot of Owls, and you can only imagine the amount of costumes for boys and girls that will become available for Halloween and fancy dress parties will be huge, and I can not wait to see what becomes available, as the costumes available such as this amazing childs Soren costume now are excellent.
Save
Save