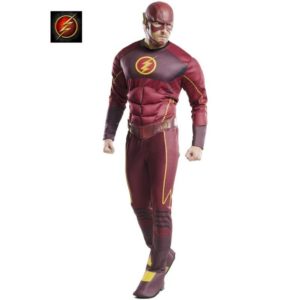 This Flash Adult Costume
is one of the most fun and exciting costumes to wear for men at Halloween and is available in all sizes.
To be unique in a fancy dress costume is important and this costume is certainly unique. Superhero costumes are all the rage this year due to The Green Lantern movie and also the plan for a lot of DC Comic movies.
The Flash is one of the most popular comic book characters of all time. There have been plenty of comics, cartoons, TV programmes and in 2013 a Flash Movie is to be released which will surly bring about a ton of great costumes again.
For the coming Halloween, this Flash costume is sure to be one of the most popular.
It includes a red bodysuit with attached yellow boot tops, The Flash emblem, lightning bolt accents on the sleeves, yellow belt (ties in the back), and a red fabric character headpiece/mask with yellow lightning bolt accents.
Available in Adult sizes: Large and X-Large, a real fun costume that must be seen to believe.

View purchasing details for this Flash Adult Costume here
The Flash really is such a cool superhero and one of my favourite. I really hope the movie that is been made for this character will be better than the Green Lantern movie and do The Flash Justice.
You can also get this costume for ladies to, a real gorgeous ladies costume that would be perfect for pairing up is you are looking for couple costumes ideas. Enjoy this Flash costume and enjoy your fancy dress party.
Save